Chunbao (Charles) Xu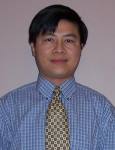 Professor, NSERC/FPInnovations Industrial Research Chair in Forest Biorefinery

PhD in Chemical Engineering, University of Western Ontario, 2004
PhD in Metallurgical Engineering, University of Sci. & Tech. Beijing, 1998
BSc in Metallurgical Engineering, Anhui University of Technology, 1993

My Research Group
Dr. Xu's research is centered on development of bio-energy and high-value bioproducts (biofuels, biochemicals and biomaterials) from bioresources (e.g., agro-forest biomass/residues, municipal solid wastes and wastewater sludge) via thermochemical and catalytic conversion processes. In addition, Dr. Xu is active in upgrading of heavy residual oil via hydro-treatment and recovery of organics from oil sands tailing water. Dr. Xu has co-edited a Springer book on biorefinery, published 10 book chapters and more than 90 peer-reviewed journal papers. He is one of the key faculty members for the Green Process Engineering (GPE) program – The first of its kind of program in Canada.
Awards and Distinctions
Outstanding Young Scientists Award in 1999 from Japan Institute of Energy
Syncrude Canada Innovation Award in 2011 from Canadian Society of Chemical Engineers (presented each year to one young Canadian chemical engineer under the age of 40 who has made a distinguished contribution to the field of chemical engineering while working in Canada)
2014 Outstanding Profile Award in Professionals Sector from Fairchild Television.
Professional Activities
NSERC/FPInnovations Associate Industrial Research Chair in Forest Biorefinery
Co-editor-in-chief for the International Journal of Chemical Reactor Engineering (IJCRE), an international peer reviewed journal published by De Gruyter.